International 1st Vice President
Judge Haynes D. Townsend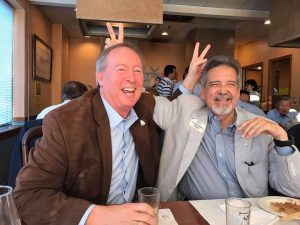 We share your grief over the loss of our friend, our mentor and fellow Lion, 1VP Judge Haynes Townsend.  We feel so fortunate to have had the time we had, serving alongside VP Haynes and Donna Lord Townsend.
There are simply no words to really describe the loss. We know there are a lot of questions, but we ask for now that you focus your love and energy towards Lion Donna, Morgan and Madison. We also ask you to remember his theme "Kindness Matters" in everything you do.
We know Lions perform acts of kindness everyday in all parts of the world. We plan to perform some random acts of kindness in memory of our friend. And remember, kindness doesn't have to cost you anything – kindness is free. Compliment someone. Hold open doors and help carry packages. Offer to babysit for a single parent so they can prepare for the holiday. Set a place at your table for a lonely neighbor. Visit elderly clients in nursing homes. Write an appreciation note to that teacher who goes up and beyond their duty. The list is endless.
We may not have been able to keep VP Haynes here with us, but his leadership and his kind, servant heart will forever be in us. Love each other. Hug each other. Be kind to each other.