History
1977

Rosemont, IL

Theme:

Chair Person: Norm Dahl

Honorary Chair: Johnny Balbo

Host Chair: John Oberweiss

Date: September 30 – October 2
1978

Detroit, MI

Theme:

Chairperson: Richard Hall

Honorary Chair: Ralph Lynam

Host Chair:

Date: September 22-24
1979

Bloomington, MN

Theme: Leadership in Lionism

Chairperson: George Crumbley

Honorary Chair: William Chandler

Host Chair: Gerry Robbins

Date: September 21-23
1980

St Louis, MO

Theme: Motivation for Leadership

Chairman: RW Dennis

Honorary Chair: William Chandler

Host Chair: Bill Steinbrueck & Russell Nixon

Date: October 17-19
1981

Denver, CO

Theme: Challenges of Leadership

Chairperson: Don Buckalew

Honorary Chair: Ebb Grindstaff

Host Chair: Earl Maddox & Lonnie Farmer

Date: September 11-13
1982

Louisville, KY

Theme: Inspiration Through Leadership

Chairperson: Don Buckalew

Honorary Chair: Ebb Grindstaff

Host Chair: Earl Maddox & Lonnie Farmer

Date: September 24-26
1983

Chicago, IL

Theme: Strength Through Leadership

Chairperson: Robert E Anderson

Honorary Chair: Jim Fowler

Host Chair: Norm Dahl

Date: September 23-25
1984

Philadelphia, PA

Theme: Growth Through Leadership

Chairperson: James Miller

Honorary Chair: Bert Mason

Host Chair: Ted Fusco

Date: September 21-23
1985

Hollywood, FL

Theme: Reach Out With Leadership

Chairperson: Ross DiMarco

Honorary Chair: Joeseph Wroblewski

Host Chair: Donald Hill

Date: September 20-22
1986

Calgary, AB

Theme: Skills For Leadership

Chairperson: Bruce Murray

Honorary Chair: Judge Brian Stevenson

Host Chair: Art Hironaka

Date: September 18-21
1987

Kansas City, MO

Theme: Integrity in Leadership

Chairperson: William Leibensperger

Honorary Chair: Judge Brian Stevenson

Host Chair: Lee Buck & George Jensen

Date: September 17-20
1988

Niagara Falls, NY

Theme: Paths to Excellence

Chairperson: William L Biggs

Honorary Chair: Austin Jennings

Host Chair: Gordon Hubbard & John Daniels

Date: September 22-25
1989

Albuquerque, NM

Theme: Vision for the Future

Chairperson: George L Mick Barrus

Honorary Chair: William L Bill Biggs

Host Chair: William Schum & Hilliard Lewis

Date: September 14-17
1990

Nashville, TN

Theme: Involvement – We Serve in Action

Chairperson: Robert J. Drabek

Honorary Chair: Don Banker

Host Chair: John Justice & Earl Tatum

Date: September 20-22
1991

Salt Lake City, UT

Theme: Involvement – Accept the Challenge

Chairperson: Norman M. Dean

Honorary Chair: Don Banker

Host Chair: Jay Meservy

Date: September 26-28
1992

Oklahoma City, OK

Theme: Membership Strength – Our Future

Chairperson: Daniel W Dan Cole

Honorary Chair: Jim Coffey

Host Chair: Robert Lee

Date: September 24-26
1993

Winston-Salem, NC

Theme: Leadership – Our Responsibility

Chairperson: Fred D Cole

Honorary Chair: Jim Coffey

Host Chair: John Shepherd

Date: September 9-12
1994

Des Moines, IA

Theme: Unity – A New Generation

Chairperson: L. Blaine Rush

Honorary Chair: William Wunder

Host Chair: Gary Fry

Date: September 22-25
1995

Edmonton, AB

Theme: Leadership – Our Foundation

Chairperson: Tom Broughton

Honorary Chair: William Wunder

Host Chair: Bill Bissonnette

Date: September 14-17
1996

Milwaukee, WI

Theme: Building Bridges to the Future

Chairperson: Richard A Dick Tyler

Honorary Chair: Pat Patterson

Host Chair: Harry McMeeken & Tom Thorson

Date: September 26-28
1997

Syracuse, NY

Theme: Proud Past – Brighter Future

Chairperson: Karl Adamson

Honorary Chair: Pat Patterson

Host Chair: Stanley Deminski

Date: September 25-27
1998

Lexington, KY

Theme: Gateway to Excellence

Chairperson: Dr. John Pearce

Honorary Chair: Jim Ervin

Host Chair: Mike Levenson

Date: September 24-27
1999

Birmingham, AL

Theme: Visions, Opportunities, Responsibilities: For all the World to See

Chairperson: Roy D. Wilson

Honorary Chair: Jim Ervin

Host Chair: Bill Tisdale

Date: September 16-19
2000

Tucson, AZ

Theme: Learning Today Leading Tomorrow

Chairperson: Phillip J Ingwell

Honorary Chair: Frank Moore

Host Chair: Joe Huntsman

Date: September 21-24
2001

Halifax, NS

Theme: Light the Path to Leadership

Chairperson: Gary Fry

Honorary Chair: Frank Moore

Host Chair: Jim Sherry

Date: September 20-22
2002

Fort Worth, TX

Theme: One World One Heart: Building a Better Tomorrow

Chairman: John Daum

Honorary Chair: Kay Fukushima

Host Chair: Jack Harris

Date: September 19-21
2003

Portland, OR

Theme: Innovation – The Gateway to Leadership

Chairperson: Joe Preston

Honorary Chair: Clem Kusiak

Host Chair: Sunny Pulley

Date: September 18-20
2004

Reno, NV

Theme: Sharing Success

Chairperson: Edward Gear

Honorary Chair: Clem Kusiak

Host Chair: Vince Vinella

Date: September 8-11
2005

Peoria, IL

Gene Polgar

Theme: Passion to Excel

Honorary Chair: Jimmy Ross

Host Chair: Terry Knollenberg

Date: September 21-24

Chairperson
2006

Columbus, OH

Theme: Discover a New World of Leadership and Service

Chairperson: Jack Harris

Honorary Chair: Jimmy Ross

Host Chair: Earl Strawn

Date: September 14-16
2007

Grand Rapids, MI

Theme: Making a Difference Through the Challenges of Change

Chairperson: Ed McCormick

Honorary Chair: Al Brandel

Host Chair: Gary Anderson

Date: September 5-8
2008

Saskatoon, SK

Theme: Everyday Heroes Performing Miracles Through Service

Chairperson: Terry Graham

Honorary Chair: Al Brandel

Host Chair: Ron Belke

Date: September 14-16
2009

Memphis, TN

Theme: Move to Grow – Lions Leading Through Service

Chairperson: Chuck Kostro

Honorary Chair: Sid Scruggs

Host Chair: Floyd Schriber

Date: September 24-26
2010

Milwaukee, WI

Theme: A Beacon of Hope Through Leadership and Service

Chairperson: William Bill Iannacone

Honorary Chair: Sid Scruggs

Host Chair: Phil Ingwell

Date: September 23-25
2011

Anchorage, AK

Theme: I Believe in Lions Leadership

Chairman: Bud Wahl

Honorary Chair: Wayne Madden

Host Chair: Buster Hall

Date: September 22-24
2012

Tampa, FL

Theme: Leadership in a World of Service

Chairperson: Polly Voon

Honorary Chair: Wayne Madden

Host Chair: Jackie Camerion

Date: September 13-15
2013

Overland Park, KS

Theme: Follow the Leadership Road to Your Dreams

Chairperson: Doug Lozier

Honorary Chair: Joe Preston

Host Chair: Neal Nichols

Date: September 19-21
2014

San Juan, PR

Theme: Building Leadership One Block at a Time

Chairperson: Ron Duffe

Honorary Chair: Joe Preston

Host Chair: Eugenio Roman

Date: September 9-11
2015

Grand Rapids, MI

Theme: The Grand Forum

Chairperson: Mark Miller

Honorary Chair: Bob Corlew

Host Chair: John Johnston

Date: September 17-19
2016

Omaha, NE

Theme: Leadership For Service

Chairperson: Gary Anderson

Honorary Chair: Bob Corlew

Host Chair: Randy Ritterbush

Date: September 15-17
2017

Portland, OR

Theme: Leadership With Imagination & Service With Creativity

Chairman: Lowell Bonds

Honorary Chair: Bob Corlew

Host Chair: Joyce Anderson

Date: September 21-23
2018


Columbus, OH

Theme: Building Teams Through Leadership

Chairperson: Mark Hintzmann

Honorary Chair: Haynes Townsend

Host Chair: Ron Keller

Date: September 20-22
2019


Spokane, WA

 

Theme: Creating Better Leaders

Chairperson: Paul Bledsoe

Honorary Chair: Haynes H Townsend

Host Chair: Laura Wintersteen-Arleth

 

Date: September 19-21

 
2020


Louisville, KY

 

Theme: And Were Off… To Winning Leadership!

Chairman: Harvey Whitley

Honorary Chair: Haynes H Townsend

Host Chair: Chuck Carlson

 

Date: September 17-19

 
2021 (Future)

Des Moines, IA

 

Theme:

Chairperson: Wendy Cain

Honorary Chair:

Host Chair: Gerald "Jerry" Inman

 

Date: September 9-11

 
2022 (Future)

Calgary, Alberta Canada

Theme:

Chairperson: Randy Heitmann

Honorary Chair:

Host Chair:

Date: September 15-17
2023 (Future)

Reno, Nevada

 

Theme:

Chairperson: Jama Wahl

Honorary Chair:

Host Chair:

 

Date: September 14-16

 
Beginning at the 2001 Forum in Halifax, NS, it was the 25th Anniversary. The Forum has given recognition to those Lions who attended the Forum's since 1977. Please note the photo of the Lions with perfect attendance since the birth of the USA/Canada Lions Leadership Forum.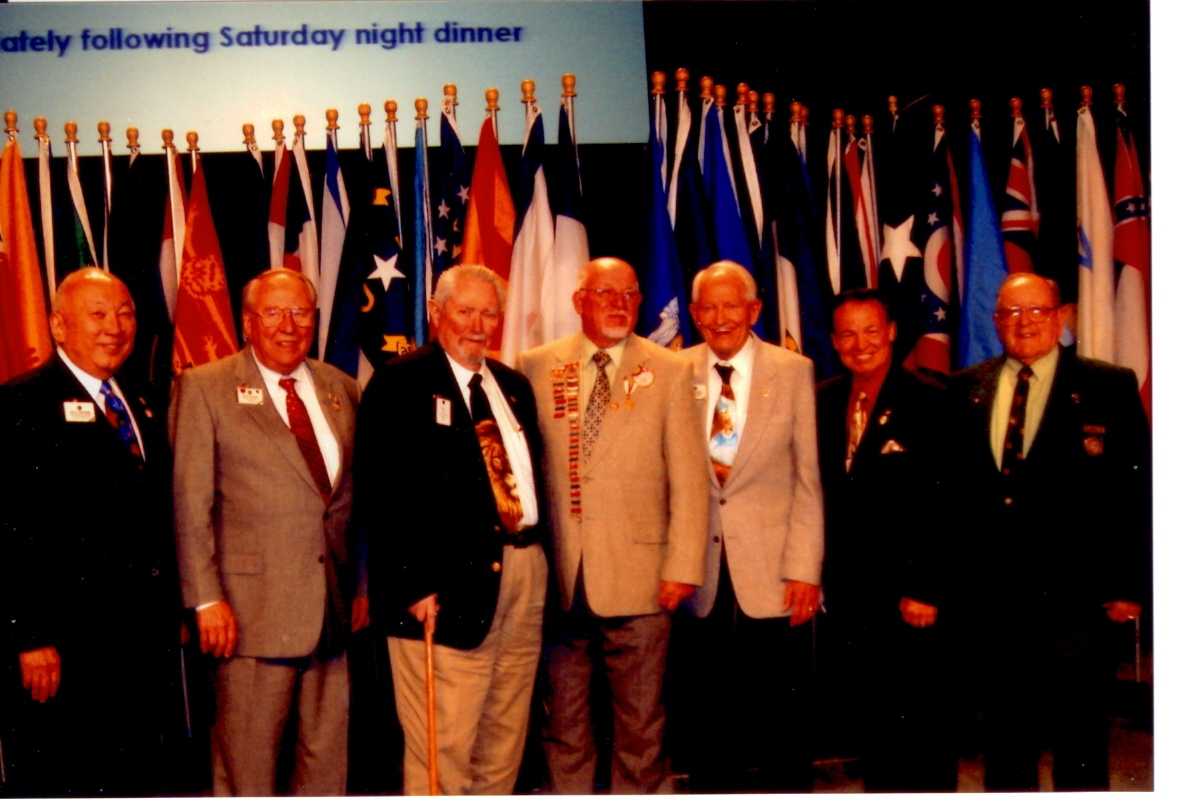 They are from left to Right:
PIP Kay Fukushima (California)
PID Roger Richert (Washighton)
PDG Henry Tolk (Michigan)
PDG Bruce Strome (South Carolina)
PDG Earl Maddox (Colorado)
PDG Ted Fusco (Pennsylvania)
PDG Bill McLaughlin (Pennsylvania)
The second photo celebrates the perfect Forum attendance of these Lions taken at the 2018 Columbus, Ohio Forum.
Here is a picture of the "Dynamic Duo" with PDG Bruce Strome and PID Roger Richert.