Thursday Evening Opening Banquet
Jake Olson
Jake Olson is 23 years old, a resident of Huntington Beach, California and a
graduate of the University of Southern California. When Jake was 8 months
old, he was diagnosed with a rare form of eye cancer, retinoblastoma. The
disease claimed his left eye at 10 months old and in November 2009 Jake lost
his right eye after battling the cancer for 12 years. Jake confronted many
challenges and encountered many setbacks during his battle and loss of sight
but remained strong through his faith in God. He has used his experience to
inspire and motivate others by authoring two books, creating a non-profit
foundation to help visually impaired children and support cancer research and
by sharing his story openly as a motivational speaker. Jake is also a life-long
USC football fan. While in high school he learned to long snap and was the
starting long snapper for his team his junior and senior year. After being
accepted to USC, he was offered a walk on spot with the USC football team,
making him the first completely blind Division I college football player. He saw
his first live action when he snapped in USC's home opener on September 2,
2017 and was named the Pac-12 special teams' player of the week. In his
college career, he had a total of three successful PAT snaps, earning his spot
as one of the top two most inspirational stories in college football's 150 year
history. His story has been featured on ESPN, ABC, NBC, CBS, CNN, FOX, Fox
Sports, Hallmark, TBN, The Golf Channel, The Wall Street Journal, The New
York Times, The Los Angeles Times, Sports Illustrated, The Washington Post,
etc. Since graduating, Jake has become an entrepreneur, co-founding Engage,
an online platform that digitizes the process of booking talent for experiences.
FRIDAY LUNCH
Catriona Le May Doan
Olympic Speed skater that lives in Calgary.aCox.com
After carrying the Canadian flag into the 2002 Olympic Winter Games opening ceremonies, Catriona Le May Doan defended her Olympic title with a Gold medal performance in the 500-metre speed skating event, becoming the first Canadian individual, and the only female Canadian individual, to defend a gold medal at any Olympic games. Articulate and engaging, Catriona explores with her audiences the method of achieving personal excellence while challenging and motivating people to achieve their full potential.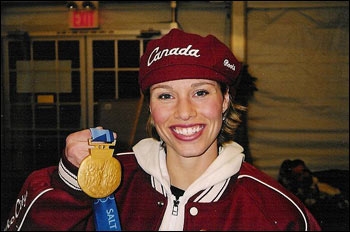 Saturday Lunch
International President Brian E. Sheehan



Brian E. Sheehan, from Bird Island, Minnesota, USA, was elected to serve as first vice president

of Lions Clubs International at the association's 103rd International Convention, June 25 through

June 29, 2021.

Vice President Sheehan is the founder and CEO of Rural Computer Consultants, a software

development company.

A member of the Bird Island Lions Club since 1991, he has held many offices within the

association, including council chairperson, long range planning chairperson, membership

chairperson, retention chairperson, women's initiative chairperson, MD convention chairperson,

GMT Liaison and GLT area leader. He has also served as the chairperson of the Headquarter

Operation & Finance Committee, Lions University coordinator, DGE group leader, and board

appointee to several committees including Constitutions and Bylaws, LCIF Executive, LCI

Executive, USA/Canada Lions Leadership Forum and the Centennial Action committees. He has

been a presenter at numerous Lions events, including many of the Global Forums.

In recognition of his service to the association, he has received numerous awards including Club

Lion of the Year; the District 5M 4 Diabetes Awareness Award; the MD 5M Web Site

Appreciation Award; the MD 5M Al Jensen Leadership Award; the Founders Membership Growth Award; numerous International President's Certificates of Appreciation; International President's Leadership Award; multiple International President's Awards; and the Ambassador of Good Will Award, the highest honor the association bestows upon its members. He is also a Progressive Melvin Jones Fellow and Second Century Ambassador.

In addition to his Lions activities, Vice President Sheehan is active in numerous professional and community organizations. He has served as president of Bird Island Civic and Commerce, director of the Learning Funhouse and as a member of various school committees. He also received the 2011 U.S. SBA Minnesota Small Business Person of the Year Award.

Vice President Sheehan and his wife, Lori, also a Lion and Progressive Melvin Jones Fellow, have two sons and two daughters. And in their spare time, they have enjoyed raising many types of exotic animals.
FRIDAY EVENING
Steve Farber
Huffington Post has named Steve Farber as the

#1 Business Speaker to See

.




Listed as one of

Inc.'s global Top 50 Leadership and Management Experts

,




Farber is a Leadership Pioneer, Strategist, Keynote Speaker and Bestselling




Author on Extreme Leadership.
His expertise is in creating organizational cultures where


leadership is not just an opportunity and obligation
for those in authority, but for everyone at all levels.
Former Vice President of the Tom Peters Company,
Steve is the President of Extreme Leadership, Inc,

and the founder of The Extreme Leadership Institute,

organizations devoted to the cultivation and

development of Extreme Leaders around the world.


His accessible, deeply inspirational, and eminently

practical Radical LEAP framework is widely used across

the business, non-profit and education spectrum.


Farber has been credited with redefining leadership in

deeply personal yet practical terms and re-energizing

thousands of people to make a significant difference

in their businesses, lives, and the world around them.


Steve is the author of the new book

Love is Just Damn

Good Business

. His third book,

Greater Than Yourself

,


was a Wall Street Journal® and USA Today® bestseller. His

second book,

The Radical Edge

, was hailed as "a playbook

for harnessing the power of the human spirit." And his first


book,

The Radical Leap

, is already considered a classic in

the leadership field. It received Fast Company Magazine's

Readers' Choice Award and was recently named one


of the 100 Best Business Books of All Time. His column,

The

Extreme Leadership Chronicles

, runs frequently on Income.