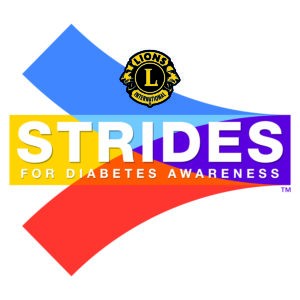 The 2022 Strides Stampede event at the Forum is going to be different this year!  Instead of a traditional group "Walk", we are having a Scavenger Hunt with activities that can be completed throughout the Forum weekend.  This has allowed us move forward in our planning with participant safety and uncertainties around COVID and large/close groups in mind.   Registered participants can pickup their shirts Thursday morning, and there will be a short informational kickoff.
NOTE:  Lunch will NOT be provided as part of Strides this year, but healthy snack packs will be available for those who registered.  This prevents food handling and distribution concerns, and allows us to keep our expenses lower so that more of the fee can be contributed to diabetes programs.
The USA/Canada Lions Leadership Forum is excited to partner with Camp Hertko Hollow, the beneficiary for 2021 Strides funds raised.  Camp Hertko Hollow, a 501(c)3 not-for-profit entity, is a member of the Diabetes Education and Camping Association (DECA) and is accredited by the American Camp Association (ACA).  It's mission is to:
▪ Provide an educational and recreational camping program for Iowa's youth between the ages of 5-17 who have diabetes.
▪ Promote diabetes management skills.
▪ Help children gain independence and develop a positive attitude for controlling the disease.
Since 1968, Camp Hertko Hollow has provided a positive camping experience for over 15,000 children with diabetes.  Campers are predominately Iowa residents, however, it has a regional reputation of being a very well-run and fun diabetes camp.  In 2019, 275 campers came from 130 towns across Iowa as well as 47 campers from other states:  Wisconsin (3), Texas (1), South Dakota (5), Missouri (11), Nebraska (11), Minnesota (1), and Illinois (15).
The cost to attend the week-long camp is $650.  However, the true cost of the program exceeds the fees charged; the actual cost of summer overnight camp is almost $1,300 per camper. The generosity of families and other donors makes Camp Hertko Hollow a reality. No camper will be turned away due to an inability to pay. The goal is to be able to offer every child living with diabetes in Iowa the opportunity to attend Camp Hertko Hollow, regardless of their financial situation. Financial assistance is available for those who cannot afford to pay the full fee.